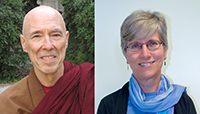 Thursday, February 18, 6 - 8:30 pm, Ven. Bhikkhu Bodhi and BoWZ Dharma Teacher and GBZC sangha-mate, Dr. Julie Nelson, will make presentations at the Harvard Divinity School's RPP Colloquium: Buddhist Responses to Climate Change. 
Dr. Julie Nelson will present "Beyond 'Small is Beautiful': Buddhism and the Economics of Climate Change." and Ven. Bhikkhu Bodhi, chair of Buddhist Global Relief and president of the Buddhist Association of the United States (BAUS), will present "The Four Noble Truths of the Climate Crisis."
Space is limited and RSVP is required.
Get the details and RSVP
.