COMMEMORATED BY PRACTITIONERS WORLDWIDE, ROHATSU HONORS BUDDHA'S AWAKENING, WHICH IS ALSO OUR AWAKENING.
GBZC will have two special opportunities for
you to engage in this deeply held remembrance.

Rohatsu Sit: Fri night, Dec 12th, 8:30 – 10:00 pm
In symbolic observance of the Buddha's own all-night sitting, the Center will be open Friday night from 8:30 pm – 10:00 pm for zazen. Come for all or part of this special opportunity to sit together.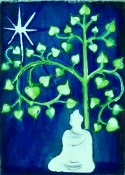 "This zazen is not meditation practice.
It is simply the Dharma gate of joyful ease, the
practice-realization of totally culminated enlightenment."
- Fukanzazengi

Rohatsu Commemoration: Sat, Dec 13th, 9:00 am – Noon
(during the weekly Saturday morning program)
In addition to the regular Saturday morning program of zazen and interviews, there will also be a special Dharma talk and ceremony to commemorate Buddha's awakening and the awakening of all beings.
How has this practice changed your life? Let's sit together and honor the gift of Buddha's enlightenment.