The Dhamma Brothers
Thursday September 24th, 2015
Start Time 7:15PM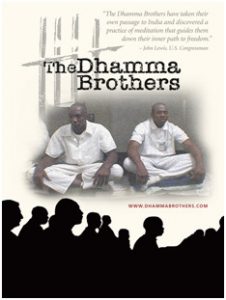 Greater Boston Zen Center's Zen movie night continues in September with an exploration of the Dharma through the eyes of those incarcerated in the American Prison system.
"An overcrowded, violent maximum-security prison, the end of the line in Alabama's prison system, is dramatically changed by the influence of an ancient meditation program. Behind high security towers and a double row of barbed wire and electrical fence live over 1,500 prisoners, many of whom will never again know life in the outside world.
But for some of these men, a spark is ignited when it becomes the first maximum-security prison in North America to hold an extended Vipassana retreat, an emotionally and physically demanding program of silent meditation lasting ten days and requiring 100 hours of meditation."
While Vipassana practice differs somewhat from Zen practice, there are many similarities. After the film we will have a discussion, sharing our impressions of the film and reflecting on insights into our practice, the dharma, and the prison system.
Hosted by Harry Gordon
Runtime 1 hour, 16 minutes. Unrated. Inmates describe their past criminal acts, some of which are violent sex crimes. Some crime reenactments.
STAY TUNED — MORE ZEN MOVIE NIGHTS WILL BE ANNOUNCED SOON!