At the Greater Boston Zen center, we have adopted a model of shared leadership. Having directly experienced the problems resulting from power being concentrated in one or a few senior teachers, we now empower many different sangha members to take on various responsibilities. All persons in leadership roles have read and agreed to abide by the GBZC Ethics Policy.
Our major organizational groups are: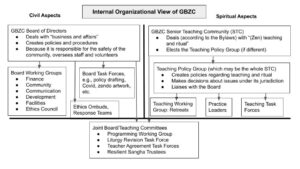 For more information about individuals, see Meet Our Leaders. For more about our legal structure, see our Bylaws .
Board of Directors (2022–2023)
Hussein Elgridly, President
Caro Murphy, Vice President
Lindsay Timke, Treasurer
Vincent Cho, Clerk
Leilani Chen, Member-at-Large
Jennifer Mercer, Member-at-Large
The GBZC Board of Directors is elected by members of the community at our annual meeting and takes as a sacred trust the overall care of the sangha in organizational and financial matters. They study and take seriously their legal obligations of care of the sangha, loyalty (to the sangha's mission), and obedience (to the law and bylaws).
Contact: [email protected]
Senior Teaching Community (2022–2023)
Julie Nelson, Dharma Holder and Teaching Coordinator
Jeff Seul, Sensei
Fran Ludwig, Senior Assistant Teacher
The Senior Teaching Community oversees matters of Zen teaching and rituals, convenanting with the sangha to always put student interests before their own. All STC members have authorization to teach within the Robert Aitken Roshi and/or Taizan Maezumi Roshi lineages and engage in initial and ongoing study about appropriate boundaries, personal shadow, and the potential for abuses of power. They are vetted by the Board. Teachers may have students who  are outside of GBZC, and vice versa.
We at GBZC believe that many in the sangha have much to teach each other. We encourage this through by providing regular opportunities for presentations, discussions, classes, and other activities led by sangha members who are not senior teachers, as well as Dharma Discussions after talks by senior teachers. However, because only senior teachers have taken on the  extra training and ethical commitments we require for those offering dokusan, only they are entrusted with providing spiritual guidance to individuals.
contact: [email protected]
Practice Leaders
Practice Leaders are the first people one sees and talks to when first investigating GBZC, as well as those we look to to keep our sitting periods on track. PLs are experienced students who are very familiar with all the forms of Zen practice used in our weekly or monthly sits. They instruct and guide participants in  chanting, bowing, playing instruments, and so on. They are also trained by senior teachers to offer basic guidance in zazen (sitting meditation) to newcomers. Those interested in becoming a Practice Leader should talk with the teacher(s) and PL(s) of the group they sit with. 
Working Groups
We currently have six active working groups with leadership voted in annually by GBZC's elected Board of Directors:
We also have one active working group formed by the Senior Teaching Community:
The Retreats Working Group engages in long-range planning for sesshin. Contact Fran Ludwig at

[email protected]

.
Working Groups at GBZC are the secret to GBZC's flourishing. Members of working groups are the behind-the-scenes heroes who make sure that our newsletter goes out, our drinking water shows up, our checks get written, our fundraising happens, and our activism is stoked. Drawing on a wide variety of skills, they are GBZC's way of "using all the ingredients of our shared life," to paraphrase the 8th precept, in service of the Dharma and all beings.
The Board (and/or Senior Teaching Community) appoints Working Group leaders (and possibly members). Members are encouraged to volunteer! Working Group leaders submit periodic reports to the Board about their group's activities.
Ethics Council and Ombudsperson
The Ethics Council was established to further GBZC's aspiration to prevent and remediate ethical harms. Its mission is to create and organize events, as well as co-host events with other individuals or groups, that facilitate thinking about ethics. Members include the Ethics Ombudsperson and other sangha members. Contact Luis Valles at [email protected].
The Ethics Ombudsperson ("Ombuds") is appointed by the Board, and is neither a Board member nor a Senior Teacher.  The Ombuds also offers informal assistance to practitioners who have questions or concerns related to an ethical matter at GBZC, impartially and, to the extent possible, confidentially. Contact Paul Miller at [email protected].